Unimotor fm 

075U3D300BACAA075140
Stall Torque
Stall Torque
Peak Torque
Peak Torque
Rated Torque
Rated Torque
Stall Current
Speed
(LB-IN)
(Nm)
(LB-IN)
(Nm)
(LB-IN)
(Nm)
(A)
(RPM)
41.6
4.7
131.9
14.9
37.2
4.2
2.9
3000
460V Non-Brake Motor
Incremental encoder 4096ppr
Unimotor fm Series
0.72Nm to 136Nm (408 Nm peak)
055 to 250 Frames
Unimotor fm is a high performance brushless AC servo motor range matched for use with Control Techniques variable speed drives. 'fm' stands for flexible motor, designed to accommodate a wide range of applications. The motors are available in seven frame sizes with various mounting arrangements and motor lengths.
Unimotor fm provides high-precision over an extended duration requiring lower acceleration and deceleration rates. The motor is optimized for high stability in precision profiling applications including:
Printing

Winding

Labeling
Perfectly matched to Digitax ST servo drives.
Features
Wide torque range
Unimotor fm offers the widest torque range, from 0.72Nm - 136Nm
Maximum flexibility
Flexibility of the Unimotor range ensures the best fit for your application, options include:
Various feedback devices to be used. As standard an incremental encoder is fitted as this offers an optimum balance of cost and performance. SinCos, EnDAT and Hiperface can be selected for increased resolution and Resolver feedback is available for increased reliability in extreme environments

High inertia versions are available to allow the motor inertia to be more closely matched to the load inertia for increased performance and stability

Motor brakes may be integrated within the motor. A choice of parking brake or high energy dissipation brake is available

Type of connectors fitted

Various voltage and speed ranges are available
Specifications
Unimotor is suitable for a wide range of industrial applications, due to its extensive range of features
Torque range: from 0.72 Nm to 136 Nm

Standard and high energy parking brakes

Numerous connector variants, e.g. vertical, 90° low profile, 90° rotatable and hybrid box on frame size 250

Variety of flange possibilities (IEC/NEMA)

Various shaft diameters; keyed or plain

IP65 conformance; sealed against water spray and dust when mounted and connected

Low inertia for high dynamic performance; high inertia option available

World class performance

Supported by rigorous testing for performance and reliability

Optional high peak torque motors; up to 5 times stall torque

Winding voltages of 400V and 220V

Rated speeds include 1500 rpm, 2000 rpm, 3000 rpm, 4000 rpm, 6000 rpm and others available

IP65 environmental protection is standard.
Conformance and Standards:
UL/CUL certified

CE certified

RoSH Compliant

Control Techniques two year plus warranty

Certified to BS EN ISO 9001:2000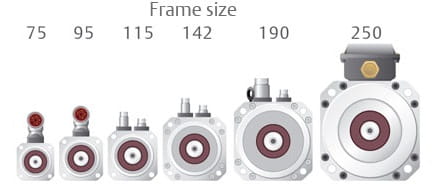 FRAME SIZES
55
75
95
115
142
190
250
RatedTorque(Nm)
0.72 - 1.65
1.2 - 3.9
2.3 - 9.0
3.5 - 15.3
5.7 - 23.4
9.6 - 73.2
92 - 136
Peak
Torque
(Nm)
2.88 - 6.60
3.6 - 11.7
6.9 - 27.0
10.5 - 45.9
17.1 - 70.2
28.8 - 219.0
276.0 - 408.0
Options
Cables are an important part of a servo system installation. Not only must the noise immunity and integrity of the cabling and connectors be correct, but also SAFETY and EMC regulations must be complied with to ensure successful, reliable and fail safe operation. One of the most frequent problems experienced by motion systems engineers is incorrect connections of the motor to the drive.
Control Techniques Dynamics ready made cables mean system installers can avoid the intricate, time consuming assembly normally associated with connecting servo systems. Installation and set-up time are greatly reduced - there is no fiddling with wire connections and crimp tools, and no fault finding.
The cables are made to order in lengths from 1m to 50m/100m.
Cable range for motor-drive combination
Unimotor fm U2 to Unidrive classic / Unidrive SP

Unimotor fm E2 to Unidrive classic low voltage / Unidrive SP low voltage

EZ to Epsilon or EN

Unimotor fm to Digitax ST / Unidrive SP size zero
Power cable variants
Phase conductors 1.0mm² (10A) to 16mm² (70A)

With and without brake wire pairs

Motor end connector

Motor end Ferrules for Hybrid box

Drive end is tailored to suit the drive and can be Ferrules or Ring terminals
Cable features
For dynamic performance PUR outer sheath for oil resistance and dynamic performance. The PUR jacket has excellent abrasion, chemical and ozone resistance, low smoke, low halogen flame retardant construction suitable for internal and external industrial environments.

OFS outer sheath for oil resistance and static performance.

Complies with DESINA coding - Orange for power, Green for signal

Power cable and plugs UL recognized

Optimum noise immunity

Encoder cable has low volt drop for long cable lengths and separately screened thermistor wires.

No need for crimp and insertion / removal tools

Production build gives quality and price benefits

Braided screen for greater flexibility and wear

Power cables with and without brake wires

Cable assembly type identification label

Brake wires are separately shielded within the power cable
Fan Box
Available for 075 to 190.

One fan box per frame size.

Easy assembly onto fm motors using two screws per side fitting into existing Unimotor fm housing slots.

Designed to keep the motor cool.
Feedback
ResolverA passive wound device consisting of a stator and rotor elements excited from an external source, such as an SM-Resolver, the resolver produces two output signals that correspond to the sine and cosine angle of the motor shaft. This is a robust absolute device of low accuracy, capable of withstanding high temperature and high levels of vibration. Positional information is absolute within one turn - i.e. position is not lost when the drive is powered down.
Incremental EncoderAn electronic device using an optical disc. The position is determined by counting steps or pulses. Two sequences of pulses in quadrature are used so the direction sensing may be determined and 4 x (pulses per rev) may be used for resolution in the drive. A marker pulse occurs once per revolution and is used to zero the position count. The encoder also provides commutation signals, which are required to determine the absolute position during the motor phasing test. This device is available in 4096, 2048 and 1024 ppr version. Positional information is non absolute - i.e. position is lost when the drive is powered down.
SinCos/Absolute EncodersTypes available are: Optical or Inductive - which can be single or multi-turn.
Optical: An electronic device using an optical disc. An absolute encoder with high resolution that employs a combination of absolute information, transmitted via a serial link, and sine/cosine signals with incremental techniques. 

Inductive: An electronic device using inductively coupled PCB's. An absolute encoder with medium resolution that employs a combination of absolute information, transmitted via a serial link, and sine/cosine signals with incremental techniques. This encoder can be operated with the drive using either sine/cosine or absolute (serial) values only. Positional information is absolute within 4096 turns - i.e. position is not lost when the drive is powered down. 
Multi-turnAs previous but with extra gear wheels included so that the output is unique for each shaft position and the encoder has the additional ability to count complete turns of the motor shaft up to 4096 revolutions.
Electronic nameplating
Available on both these types of encoders, and allows quick set-up times as the motor information is stored on board the encoder (075-250 motor only).
Click here for Unimotor fm Brochure